Digital health leaders are invaluable to the transformation of Australian healthcare. More and more we are seeing leaders across the health system called on to help educate, inform and inspire change in hospitals and healthcare organisations.
In acknowledging the important role clinicians play in leading digital transformation in health, HISA is pleased to launch a White Paper on Leadership in Clinical Informatics.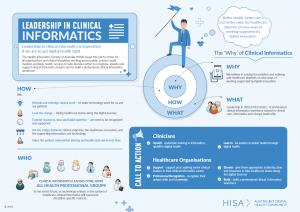 This paper was produced by HISA following a period of public consultation last year, with more than than 300 pieces of written feedback received from 40 individuals and 14 organisations.
Over 70 individuals contributed to the organisational responses. HISA's Clinical Informatics Community of Practice believes leadership is imperative if we are to get the future of healthcare right in a world where digital is ubiquitous.