HISA Clinical Informatics Network group will lead and create opportunities to influence and shape the digital health agenda. The group has its origins at HIC 2016, where delegates attended a workshop to contribute to an emerging Clinical Informatics agenda for Australia. Small workshop groups identified challenges and issues facing Clinical Informatics. The broad issues they identified were: education, standards, interoperability, silos, change management and project management. These issues will guide HISA's growing Clinical Informatics Network.
Clinical Informatics Membership
Are you involved in clinical informatics? Do you have any suggestions, ideas or would like to get involved in this community of practice?
There are no upcoming events at this time.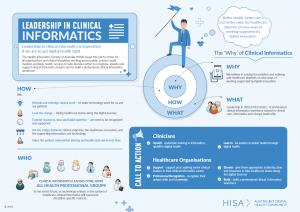 Digital health leaders are invaluable to the transformation of Australian healthcare. More and more we are seeing leaders across the health system called on to help educate, inform and inspire change in hospitals and healthcare organisations. In acknowledging the...
read more