The realities of the health system
Dr David Bates
Senior Vice President and Chief Innovation Officer, General Internal Medicine
Brigham and Women's Hospital, Boston, Massachusetts
About Dr David Bates
Dr David Bates is an internationally renowned expert in patient safety, using information technology to improve care, quality of care, cost effectiveness and outcomes assessment in medical practice, and care redesign and innovation science. He directs the Centre for Patient Safety Research and Practice at Brigham and Women's Hospital and serves as external program lead for research in the World Health Organization's World Alliance for Patient Safety. At a time when patient safety has become a key driver for focusing national attention on health care quality, Dr Bates' work has served as a blueprint for improvement. He led a seminal study on the epidemiology of drug-related injuries, demonstrating that the most effective way to prevent serious medication errors is to focus on improving the systems, and has performed many studies on how computerized, evidence-based guidelines can improve quality and efficiency.
Australia's digital health agency: Next steps
Jim Birch AM
Chair
Australian Digital Health Agency
Jim Birch AM
Jim Birch AM is the inaugural chairman of the Australian Digital Health Agency. With extensive experience as a healthcare leader and advisor, Jim was previously Global Health Leader of Ernst and Young, and also held the position of Chief Executive of the Human Services and Health Department in South Australia.
Moving towards an AI supported Healthcare System
Tony Corkett
Strategic Partnerships Lead
Google DeepMind
Tony Corkett
Tony is a radiographer by training but has spent the last 17 years working in healthcare IT management including initiating the UK wide PACS programme, procuring and implementing multiple systems including EPR across the world, advising governments on healthcare IT Strategy in the Middle East and Europe and grew two successful healthcare IT companies through to acquisition. Recently he merged Barts Health IT to form the largest trust in UK and was interim CIO at King's College Hospital. Tony leads on health strategy and partnerships at DeepMind.
Leadership in our clinical and health workforce. Let's address digital disruption as the norm.
Rachel Dunscombe
CEO, NHS Digital Academy and Director of Digital
Salford Royal Group (UK)
Rachel Dunscombe
Creating a digital ecosystem is Rachel's Dunscombe's current goal at Salford Royal. She is delivering the digital hospital programme, with the aim of creating a template operating model for the ideal hospital, with digital workflows and optimal user experience. Her innovative digital strategy has led to a number of strategic partnership with large technology providers. It has also led to the programme of creating an ecosystem of SMEs in Greater Manchester to build applications on one platform: Devolution Manchester. "As one of the two CIOs steering the health elements of Devolution Manchester, I have the ability to create a digital ecosystem for health."
#WeAreNotWaiting to change the way we research and innovate in healthcare
Dana Lewis
Founder
#OpenAPS
Dana Lewis
After building her own DIY "artificial pancreas", Dana Lewis helped found the open source artificial pancreas movement (known as "OpenAPS"), making safe and effective artificial pancreas technology available (sooner) for people with diabetes around the world. She is part of the #WeAreNotWaiting movement and engages with patient communities globally to solve healthcare problems in new and innovative ways. She is now a Principal Investigator (PI) for a Robert Wood Johnson Foundation funded grant project to work to scale patient-led innovation and scientific discovery in more patient communities.
Bringing health services and systems together through regional collaboration and data sharing
Dr Christopher Longhurst
CIO
UC San Diego Health
Dr Christopher Longhurst
As Chief Information Officer, Dr Longhurst is responsible for all operations and strategic planning for information and communications technology across the multiple hospitals, clinics, and professional schools which encompass UC San Diego Health. Dr Longhurst is also a Clinical Professor of Biomedical Informatics and Paediatrics at UC San Diego School of Medicine, and continues to see patients as a practicing paediatric hospitalist.
Panelist
Katharina Redford
Executive Director of Care Services
Moyne Health Services, Victoria
Katharina Redford
Katharina has 35 years' experience in healthcare encompassing a broad range of clinical, management and leadership roles. Katharina has strong knowledge of the healthcare industry and has proven change management, collaborative and governance skills across many roles. Katharina's current role is the Executive Director of Care Services at Moyne Health Services. Prior to this, she was the Director – Clinical and Corporate Information/Deputy CEO. at the South West Alliance of Rural Health (SWARH). She is a participant in the Department of Health and Human Services (Vic) Clinical Informatics Advisory Group. She has a strong relationship with The Advisory Board International (in eHealth) and the Healthcare Information and Management Systems Society (HIMSS). Katharina has lead the SWARH journey of governance and change in relation to the aggregation or regional systems at various conferences (particularly the success of the regional Electronic Health Record).
Panelist
Dr Monica Trujillo
Executive General Manager, Clinical and Consumer Engagement and Clinical Governance, and Chief Clinical Information Officer
Australian Digital Health Agency
Monica Trujillo
Dr Monica Trujillo leads the Agency's strategy ensuring clinical and consumer engagement to deliver high quality and safety programs across the Agency. Her role ensures the implementation of a strategic approach to consumer and clinical engagement, clinical governance, safety, system design, functionality and usability of products and services, and contributes to broader development goals by ensuring Australia has a safe and robust digital health system. She is also responsible for the Agency's educational areas that focus on clinical use and adoption. Her approach to consumer engagement and patient experience provide valuable insight to the planning, design and implementation of the Agency's work program. She leads a highly committed team of clinicians and other who are focussed on better outcomes for patients.
Previous to this position, Dr Trujillo was appointed Australia's first Chief Medical Information Officer while at UnitingCare Health, as well as being the Regional Director of Medical Services for St Stephen's Hervey Bay and the Sunshine Coast Private Hospital. In this role, she was well known for her leadership and passion to fully and effectively engage clinicians in the design, implementation and sustainability of digital health solutions, in order to bring about high patient quality and safety outcomes. She was recognised for her work leading clinician engagement across UnitingCare Health with a "CEO Commendation Award for Medical Engagement Supporting Electronic Medical Record Adoption" in 2015. Prior to her tenure with UnitingCare Health, Dr Trujillo worked in the public sector in different roles across healthcare systems.
Since joining the Agency, Dr Trujillo has led the clinical programs establishment, the development of the new clinical governance stakeholder engagement framework. She also led the engagement process for the National Digital Health Strategy ensuring a comprehensive consultation was undertaken. The strategy has now been approved and is a landmark for Australia. Dr Trujillo is passionate about advancing patient-centered care and safety, and improving quality outcomes through the adoption of clinical technology, clinician leadership and active community collaboration.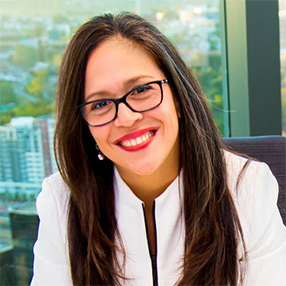 Panelist
Sally Evans
Non-Executive Director
LifeCircle
Sally Evans
Sally Evans has over 30 years international experience in executive and non-executive roles across the health, aged care and investment management, insurance and superannuation sectors. Sally has held roles in global listed financial and contract services organisations including Investment Director, Aged Care at AMP Capital, as an inaugural member of the Aged Care Financing Authority, Asia–Pacific Head of Healthcare for the FTSE Compass Group and as a Non-Exec Director at Opal Aged Care. Sally is currently Chair of LifeCircle and a speaker on the Longevity Economy and digital disruption of the aged care sector. Sally is the Telstra Business Women's Award 2002 Australian Private & Corporate sector winner and Australian Financial Review/Westpac 100 Women of Influence 2013 Corporate sector finalist.